! DOCTYPE html>
The sources I use to curate Lexington's Startup Digest
I recently began curating Lexington, KY's edition of The Startup Digest, a weekly e-mail that highlights the local events and goings on that relate to staring technology companies. We are one of over 50 cities from around the world who use this tool to accelerate relationships among members of our startup communities.
Want to see a sample? Check this out
.
Calendar
This is an aggregation of local startup calendars. You can add your events here.
Map
This is a map of local startups. You can add your company here.


View Lexington's Technology Startup infrastructure in a larger map Contact Info & Startup Resources

Want to promote your event? Have any feedback or suggestions?

Email Nick Such, Director of Labs at Awesome Inc
Sign up for the Lexington [Startup Digest]: http://startupdigest.com
Lexington startups and emerging companies
The list is here: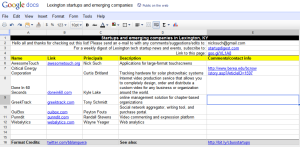 Other startup resources